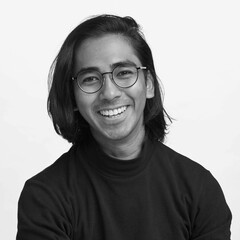 Shafi Adam
Illustrator, Character Designer, Sculptor
Providence, United States of America
Summary
I love horror, especially within fantasy and science-fiction. Having been brought up in Southeast Asia, I am familiar with it's folklore and unique version of horror and try to incorporate its themes and atmosphere into my work - this includes illustration, character design and sculpting.
I spend my free time painting Warhammer miniatures, deciding which game on my Steam library to play, cooking and going on long runs.
Rhode Island School of Design - Class of 2020.
Skills
Character Design
Creature Design
3D Asset-building
Digital Sculpting
Texturing
Prop Design
Miniature Design
Game Design
Drawing
Digital Painting
Traditional Art
Woodworking
Printmaking
Software proficiency
Experience
Illustrator & Sculptor at Freelance

Singapore, Singapore

Work includes illustration, concept art, character design and sculpting for books, games and films.


Production Artist (Intern) at Wild Power Games

Providence, United States of America

- Designed and sculpted miniatures for the High Heavens board game and external clients.

- Playtested and aided in game design for an unannounced project.

- Worked to understand the processes and considerations of running an independent studio.

- Assisted in managing the Wild Power Games booth and demonstrated High Heavens at PAX Unplugged in Dec 2019.


Production Artist (Intern) at High5Games

New York City, United States of America

- Worked in a team to develop a game for mobile and PC platforms.

- Established art direction and designed game assets for characters, environment and UI.

- Integrated assets and animations into weekly builds using Unity3D and worked with programmers to ensure they functioned as intended.

- Communicated ideas and issues with the team during daily meetings and critique sessions with senior managers.


E-board member at Brown-RISD Game Developers

Providence, United States of America

January 2017 - December 2019

- Managed and guided other students during the development of their semester-long projects and helped foster their skills in game art and design.

- Organized events such as guest speaker talks by industry professionals, game jams and end-of-semester public playtesting and showcase of our projects.

- Developed and conducted workshops introducing concepts of game design to new members.


Independent Game Development at Game Dev

Worked in various roles (2D/3D Artist, Technical Artist, Level Designer, Game Designer) across multiple game projects within Brown-RISD Game Developers and school projects.

Worldsmith with Lars Grant-West at RISD Studio Experience

Providence, United States of America

January 2019 - January 2019

Developed a thoroughly researched original fictional world through character & environment designs and illustrations. Considered all aspects of visual language in order to create an engaging and consistent art direction.

3D Sculpting & Printing with Ryan Lesser at RISD Studio Experience

Providence, United States of America

January 2019 - February 2019

- Designed an original character using a comprehensive workflow that involved thumbnailing, sketches, turnarounds, material callouts and sculpting in ZBrush.

- Created character concept sketches based in a fantasy world developed by 2 other classmates and myself.

- With the intention to 3D print, our designs and final sculpt were influenced by its ability to be printed at a high quality.

Staff Officer (National Service) at Singapore Police Force

Singapore, Singapore


- Served as the Staff Officer to Director in the Police National Service Department.

- Aided full-time staff in coordination of high-level meetings and the planning of logistics, manpower, operations and training for a unit within the organization.